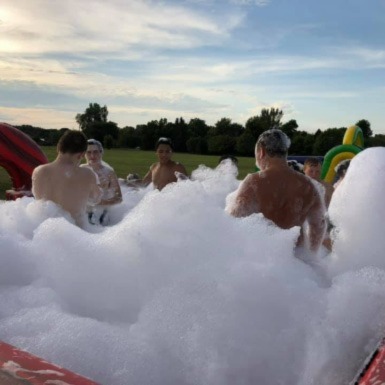 Glass City Moonwalk Rentals was started in August in 2012 by a Toledo Family. We started with a used 11' x 11' Bounce Castle and a large used 24' x 18' Obstacle Maze. The Obstacle Maze was a nightmare at first. It was extremely heavy, had thicker vinyl and felt impossible to fold and roll. After months of trial and error with friends, we fianally figured out the best way to fold and roll it. At that point, we started to do research on a forum dedicated to our business. This forum proved to be a wealth of knowledge. We studied this formum for months and realized there were many state laws in Ohio pertaining to amusement rides - yes, inflatables are considered amusement rides in Ohio. After studying the laws in Ohio, we took the necessary steps to register with the Secretary of State, Department of Taxiation, etc. From there, we obtained General Liability Insurance - which is also a state requirement. Once all of the legalities were in place, we started taking good photos of the equipment, created a Facebook page and posted the photos with our number and pricing. A few rentals came in here and there. It was the perfect pace for us to learn.

2013 came and we started promoting more and more. Had business cards made. And purchased our first brand new inflatable - our 13' x 13' Module House. Once we got it home, unrolled it and inflated it, we were hooked! We spent 2013 renting a U-Haul trailer to transport the Obstacle Maze as it was way to heavy to load into our SUV.

2014 was now upon us and it was decided we needed a website. After months of research, we went with the company who we thought would give us the best options and service. That was definitely the game-changer. Once our site went live and started ranking on Google, the online orders and calls started coming in more and more. We also purchased our first trailer this year. A single axle, 6' x 12' enclosed trailer. This was our breakthrough year!

2015 to current, has been purchasing the newest and safest equipment. Adding on anything and everything we think our clients would like as well as client requests. We now service 12 different school districts, provide entertainment for Church Events, Carnivals, Festivals, Company Events, Backyard Events, etc. The best part of this business is seeing little faces smile! It's really what keep us going and interested in this business. Although we have grown tremendously, our core values from 2012 are still at the forefront of our little business. We strive to be the best that we can with all 5-star reviews on Social Media and Google. We employee many high school students in the Toledo area as well.

Thank you for taking the time to read our journey! We would love to speak with you soon. If you ever have any questions, please feel free to reach out to us!